Circadia Resources
Whats in our kit?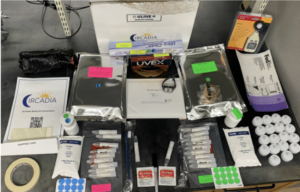 The kit includes: Actiwatch (1), Light Meter (1), iButtons (2), Blue light glasses (1), Salivettes (20), Ice packs (2), Tylenol (2), Toothbrush (2), Masking Tape (1), Instruction packet (1), Garbage bags (5), Sharpie (1), MEMs Cap (1), Uline Styrofoam box (1), Bottle (2), Circular green labels (12), Circular blue labels (12), Insulated Silver Pouch (2), FedEx Return Label and Slip (1), Shipping Tape (5)
Instruction Packet
At Home Kit Instructions
Video to Guide You through the Kit
Equity Reading List
Below are equity resources provided by the Lane Lab. For a full reading list, please check out the Bhalla Lab Equity Reading List and Lane Lab Equity Reading List.
Human Genetics and Race
Medicine and Race
Equity in Sleep Health
Mentorship
Strategies to Improve Equity